Avenue 65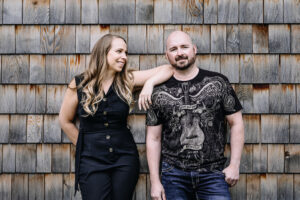 Avenue 65 is a husband and wife vocal duo harmony act from Alberta made up of Jeff & Jo Janzen.
They are currently releasing their 4th single digitally and to Canadian country radio with 3 more in the pipeline.
When they decided to take the leap to commit to creating a new duo act together,  they agreed on three guidelines as musicians and partners that they would live by for Avenue 65.
One – make great music; Two – work with great people and Three – have fun doing it!
They really believe this has been the reason that Avenue 65 continues to grow and have steady success. It's their feel good, dream project come true!
As Jo says: "We've are lucky to be backed by Creative BC as Albertan residents. We have been backed by them to record in BC which is where we were already recording our music with our incredible producer Anthony Fiddler. We have a total of 7 songs on this project! Can't wait to get the rest out."
"Old Money" is the new single from Avenue 65. It's a song that will definitely resonate with your listeners.
---
Avenue 65 est un duo vocal de l'Alberta composé de Jeff et Jo Janzen.
Ils sont en train de sortir leur quatrième single en numérique et à la radio country canadienne et en préparent trois autres.
Lorsqu'ils ont décidé de franchir le pas et de s'engager dans la création d'un nouveau duo, ils se sont mis d'accord sur trois principes directeurs en tant que musiciens et partenaires qu'ils suivraient pour Avenue 65.
Premièrement, faire de la bonne musique ; deuxièmement, travailler avec des gens formidables et troisièmement, s'amuser en le faisant !
Ils sont convaincus que c'est la raison pour laquelle Avenue 65 continue à se développer et à connaître un succès constant. C'est leur projet de rêve et de bien-être qui devient réalité !
Comme le dit Jo : "Nous avons la chance d'être soutenus par Creative BC en tant que résidents albertains. Ils nous ont permis d'enregistrer en Colombie-Britannique, où nous étions déjà en train d'enregistrer notre musique avec notre incroyable producteur Anthony Fiddler. Nous avons un total de 7 chansons sur ce projet ! Nous sommes impatients de sortir le reste".
"Old Money" est le nouveau single d'Avenue 65. C'est une chanson qui va certainement résonner avec vos auditeurs.