Emily Kate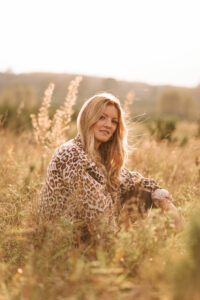 As an artist, Toronto born Emily Kate, isn't afraid to put her heart on the line. Her music conveys emotion and relatable thoughtful messages weaved with fresh, soulful melodies. Her meaning-filled lyrics coupled with her warm sound is often described as Kelsea Ballerini meets a motivational speaker.
"I want to be able to say something with my music. For people to connect with themselves and feel inspired when they listen…while also having fun." – Emily Kate
Working with Country Music Association of Ontario-nominated Producer of the Year, Shawn Moore, her Debut EP All In, revealed a strong-willed female artist that's impacted the lives of many fans. Only within a year, Emily Kate has already had an impressive career, releasing many successful songs from the EP to Canadian Country Radio- including "Giant", "The Whole Time" and country radio Sirius XM Top 30 hit "All In."  Emily is currently in the studio recording music for her debut album, set to release in 2023
Emily's new single "Make Me Get Over You" captures the emotion behind getting over a breakup. "I wrote this song the day after I saw my EX out at a bar. I felt like I was finally over them, but all my feelings came flooding back when I saw them." With an upbeat country-pop production, and catchy melody, this song is one that you'll want to play on repeat and learn all the lyrics too. Known for her soulful melodies and captivating live performances, Emily Kate is definitely a country artist to keep an eye out for.
---
Emily Kate, née à Toronto, n'a pas peur de mettre son cœur en jeu. Sa musique transmet des émotions et des messages réfléchis avec des mélodies fraîches et émouvantes.
« Je veux pouvoir dire quelque chose avec ma musique. Pour que les gens se connectent à eux-mêmes et se sentent inspirés lorsqu'ils écoutent… tout en s'amusant. » -Emily Kate
Travaillant avec le producteur de l'année nominé par la Country Music Association of Ontario, Shawn Moore, son premier EP "All In", a révélé une artiste féminine forte qui a eu un impact sur la vie de nombreux fans. En un an, Emily Kate a déjà eu une carrière impressionnante, publiant de nombreuses chansons à succès de l'EP à Canadian Country Radio, notamment; "Giant", "The Whole Time" et la radio country Sirius XM Top 30 "All In". Emily est actuellement en studio pour enregistrer la musique de son premier album, dont la sortie est prévue en 2023.
Le nouveau single d'Emily "Make Me Get Over You" capture l'émotion derrière une rupture. "J'ai écrit cette chanson le lendemain du jour où j'ai vu mon ex dans un bar. J'avais l'impression d'en avoir enfin fini avec eux, mais tous mes sentiments sont revenus à la surface quand je les ai vus." Avec une production country-pop optimiste et une mélodie accrocheuse, cette chanson est celle que vous voudrez jouer en boucle et apprendre toutes les paroles aussi. Connue pour ses mélodies émouvantes et ses performances live captivantes, Emily Kate est définitivement une artiste country à surveiller.
"Make Me Get Over You" son nouveau single !