Ila Barker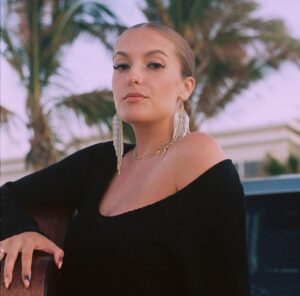 In 2017, Winnipeg-based Anishinaabe and settler folk-soul musician Ila Barker held a guitar on her lap as a friend confided in her the details of an abusive relationship. Barker sang her friend's words back to her, softly strumming the strings and turning anguish into a serendipitous self-serenade. Eventually that song became the title track of Barker's debut full-length album, Fool Under Water, a tough-but-tender testament to the possibility of survival, forged as she swam ashore herself. To write Fool Under Water, Barker spent seven years reflecting on her own survival, alongside that of the women around her. The elegantly rugged candor at the heart of the album's storytelling was amassed through experience.
"My first thought as I started packing my bags to leave was 'what am I going to do?'" says Barker. "My second thought was 'but damn, these are gonna be some good songs.'" Barker's astute observations and vulnerable introspection create a safe basin for those still swimming their way through rough waters. "I want listeners to have a moment to grieve the things that they've gone through, but also to picture a future that is brighter," she says. On lead single "Intuition," Barker sagely sings "Trust yourself, you know best," reminding all of us to listen closely to our own truths when we feel we might be sinking.
After years of writing, Barker recorded Fool Under Water at Winnipeg's No Fun Club studio alongside producers Sierra Noble and Rusty Matyas in August 2021.
"A lot of people think I took a break from music. The truth is I was in survival mode," she says. Barker has played the Regina Folk Festival, the Winnipeg Folk Festival, the sākihiwē festival, and opened for Jeremy Dutcher's sold out performance at the Indian River Festival in PEI. Through her work as founding curator with AIRsessions, a series of free music workshops for youth, Barker advocates for gender equity and Indigenous representation in music. "I have found a deeper connection with my community and the Indigenous music community through my music journey," she says. Fool Under Water is a promise that the tide will turn.
Fool Under Water is Ila Barker's new album out now at campus radio!
---
En 2017, la musicienne anishinaabe et folk-soul de Winnipeg, Ila Barker, a commencé à travailler sur une chanson qui est devenue plus tard la chanson titre de son premier album, "Fool Under Water". Elle a passé sept ans à réfléchir sur ses propres expériences afin de compléter cet album.
Après des années d'écriture, Ila Barker a enregistré Fool Under Water au studio No Fun Club de Winnipeg aux côtés des producteurs Sierra Noble et Rusty Matyas en août 2021.
Ila Barker a joué au Regina Folk Festival, au Winnipeg Folk Festival, au festival sākihiwē et a fait la première partie de Jeremy Dutcher, un spectacle à guichets fermés, au Indian River Festival à l'Île-du-Prince-Édouard. Grâce à son travail en tant que conservatrice fondatrice d'AIRsessions, une série d'ateliers musicaux gratuits pour les jeunes, Barker défend l'équité entre les sexes et la représentation autochtone dans la musique.
« J'ai trouvé un lien plus profond avec ma communauté et la communauté musicale autochtone grâce à mon parcours musical », dit-elle.
Fool Under Water est une promesse que le vent va tourner. "Fool Under Water" est le nouvel album d'Ila Barker qui sort maintenant à la radio collégial !