Jeff Catto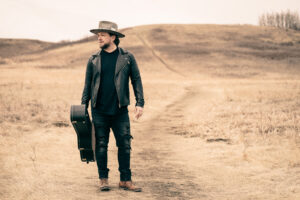 Jeff Catto has a brand new single out April 14th called "Livin My Best Life" as well as a new EP called "Neon Cathedrals". This dynamic artist calls Calgary, Alberta home. Catto delivers an infectious blend of singer-songwriter pop/rock country mixed with Gospel roots that has been compared to and influenced by notable artists such as, Dierks Bentley, Niko Moon, and Needtobreathe..
 His latest releases carried breakout singles Round Of Life, Want You Even More and Friend, with the last two spending significant time on Sirius XM as well as landing on over 500 stations globally including Canada, USA and Australia. After spending several years writing, performing and producing in the gospel music scene, he's thrilled to grow new roots in Country. "I love the country music scene these days. I love how welcoming and encouraging everyone is. I have been doing this for a very long time and that's something I haven't really, truly seen before. I want to be known as someone who writes to uplift and inspire people to not give up on family, life, love and dreams. I am a dream chaser."
 In January 2021, Catto released his powerful country debut, 'Round of Life.' A song written about his daily life, his big beautiful family and his fun household. It gained attention throughout the country, garnering plays across several radio stations and achieving over 120k streams on digital services. Since setting his sights on Country, Catto has had the privilege of opening for Aaron Pritchett, Gord Bamford, Deric Ruttan, Sean Hogan, Jake Matthews, Diane Chase, Gil Grand, Kira Isabella and Jason McCoy. Catto also co-wrote Aaron Pritchett's single, 'Summertime.'  
 Catto has been writing songs for over 18 years with 15 charting singles on Christian radio. He was also named a Canadian Gospel Music Association (CGMA) Nominee for, "Best New Artist" (2018). Although his sights are now set in this new direction, he will continue to support and work alongside those incredible artists and industry as well. When you can't find Catto in the studio, you'll catch him hanging out with his wife and six kids, cheering on the Toronto Maple Leafs, writing and marketing. He says, if there's an opportunity to be creative, he'll be doing it.
Jeff Catto's new single, "Livin' My Best Life", is a cheeky song about running into your ex when you visit your smalltown home. They say the best revenge is living a happy life, well this hooky, upbeat summer song is sure to grab your attention with lyrics "Oh I am, living my BEST life up in the clouds. None of your RAIN can bring me down today, just wait, cause everything's looking up my way, I've got a new LOVE and she's all sun", referring to the brand new love in his life. Check out Jeff's new single now and add it to your summer playlist!
___________________________________________________________________________
Jeff Catto sort un tout nouveau single le 14 avril intitulé "Livin My Best Life" ainsi qu'un nouvel EP intitulé "Neon Cathedrals". Cet artiste dynamique vit à Calgary, en Alberta. Catto offre un mélange contagieux d'auteur-compositeur-interprète pop/rock country mélangé à des racines gospel qui a été comparé et influencé par des artistes notables tels que Dierks Bentley, Niko Moon, et Needtobreathe.
Ses dernières sorties ont porté les singles Round Of Life, Want You Even More et Friend, les deux derniers ayant passé beaucoup de temps sur Sirius XM ainsi que sur plus de 500 stations dans le monde entier, y compris au Canada, aux États-Unis et en Australie.
Après avoir passé plusieurs années à écrire, jouer et produire sur la scène de la musique gospel, il est ravi de s'enraciner dans la musique country. "J'adore la scène musicale country de nos jours. J'aime l'accueil et les encouragements de chacun. Je fais ce métier depuis très longtemps et c'est quelque chose que je n'ai jamais vraiment vu auparavant. Je veux être connue comme quelqu'un qui écrit pour encourager et inspirer les gens à ne pas renoncer à la famille, à la vie, à l'amour et aux rêves. Je suis un chasseur de rêves.
En janvier 2021, Catto a sorti son premier album country puissant, "Round of Life". Cette chanson parle de sa vie quotidienne, de sa belle et grande famille et de son foyer amusant. Elle a attiré l'attention dans tout le pays, en étant jouée par plusieurs stations de radio et en atteignant plus de 120 000 streams sur les services numériques. Depuis qu'il a jeté son dévolu sur la musique country, Catto a eu le privilège d'ouvrir pour Aaron Pritchett, Gord Bamford, Deric Ruttan, Sean Hogan, Jake Matthews, Diane Chase, Gil Grand, Kira Isabella et Jason McCoy. Catto a également coécrit le single d'Aaron Pritchett, " Summertime ".
M. Catto écrit des chansons depuis plus de 18 ans et a enregistré 15 chansons qui se sont classées dans les palmarès des radios chrétiennes. Il a également été mis en nomination par la Canadian Gospel Music Association (CGMA) dans la catégorie " Meilleur nouvel artiste " (2018). Bien que ses objectifs soient maintenant fixés dans cette nouvelle direction, il continuera à soutenir et à travailler aux côtés de ces artistes incroyables et de l'industrie.
Lorsque vous ne trouvez pas Catto en studio, vous le verrez passer du temps avec sa femme et ses six enfants, encourager les Maple Leafs de Toronto, écrire et faire du marketing. Il dit que s'il y a une occasion d'être créatif, il la saisira.
Le nouveau single de Jeff Catto, "Livin' My Best Life", est une chanson impertinente sur le fait de croiser son ex lorsqu'on visite sa petite ville natale. On dit que la meilleure vengeance est de vivre une vie heureuse, et cette chanson d'été accrocheuse et optimiste ne manquera pas d'attirer votre attention avec ses paroles "Oh I am, living my BEST life up in the clouds. Aucune de vos pluies ne peut m'abattre aujourd'hui, attendez, parce que tout va dans le bon sens, j'ai un nouvel amour et elle est tout ensoleillée", faisant référence au nouvel amour de sa vie. Découvrez dès maintenant le nouveau single de Jeff et ajoutez-le à votre liste de lecture estivale !