Joel Lee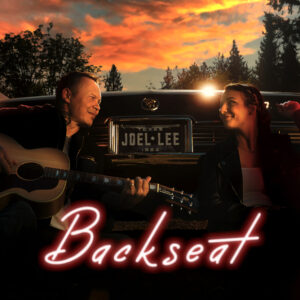 Touching down after the smash single "This Party Ain't Over" shot him into the country music stratosphere, singer-songwriter and recording artist Joel Lee returns with "Backseat," sure to be this summer's favourite anthem. His first-ever duet, the rollicking, up-tempo "Backseat" features the vocals of fast rising singer- songwriter Nikita Afonso (think Alison Kraus meets Dolly Parton), whose performances alongside Paul Brandt and Keith Urban have cemented her status as one to watch. With Afonso, Lee's "Backseat" gains an essential female perspective and vibe, fitting since the tune chronicles a time when Lee and Peace — his wife of almost 30 years — were first dating. Invariably, the young couple would sneak away from parties to be together. "We just wanted to be alone, just the two of us," Lee chuckles from his Vancouver Island home.
"Infatuation is a very powerful motivator." Lee's previous releases "Adrenaline" and "This Party Ain't Over" reached Top 30 on SiriusXM country charts. Additionally, both releases received airplay at country radio in Canada, the U.S. and beyond, confirming Lee's vast accessibility as a performer. A feature on the show Locals, Legends & Some That Will Be on Fayetteville, Georgia's 92.5 The Bear was also a 2021 highlight, as some six million listeners absorbed the blistering honky-tonk of "This Party Ain't Over."
Recorded at the legendary Blackbird Studio in Nashville, "Backseat" was co-written and co- produced by Lee, Shawn Moore, and Brent Fortin, and can be found wherever fine country music lives. Hold on to your Stetsons, partners. This is going to be a wild ride.
---
Après que la chanson populaire "This Party Ain't Over" ait fait entrer Joel Lee sur la scène de la musique country, l'auteur-compositeur-interprète revient avec quelque chose de nouveau. Sa nouvelle chanson intitulée "Backseat" sera certainement la préférée de l'été. Son premier duo met en vedette la voix de Nikita Afonso, "Backseat" gagne une perspective féminine essentielle.
Les chansons précédentes de Lee incluent; "Adrenaline" et "This Party Ain't Over" qui ont atteint le Top 30 des charts country SiriusXM. De plus, les deux chansons ont été diffusées à la radio country au Canada, aux États-Unis et plus encore.
Enregistré au légendaire Blackbird Studio de Nashville, "Backseat" a été co-écrit et coproduit par Lee, Shawn Moore et Brent Fortin, et peut être trouvé sur toutes les plateformes de streaming.