Justin Legacy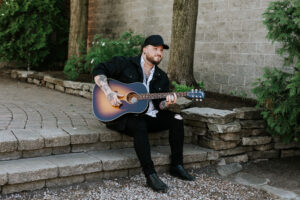 Justin Legacy is a new country singer-songwriter from Gatineau, Quebec, Canada. He was one of the finalists of the popular TV show "La Voix" season 7 and was able to record his own version of Luke Bryan's "Country Girl" which is featured on the show's album.
Talented, charismatic, passionate, motivated and above all dedicated to his music, he signed his first contract with the new record label Balistique Musique in 2022 to launch his career. He is the very first artist to trust the team formed by Étienne Boulay and John Anthony Gagnon-Robinette. Justin recently performed acoustically at AM to FM Live, and opened the show with "Best Bad Idea".
Everyone in the audience loved the song and repeatedly remarked, "I hope this is the next single". Well, Justin listened to his audience and followed their advice. We hope "Best Bad Idea" is a GOOD idea for your playlist!
---
Justin Legacy est un nouvel artiste country de Gatineau, Québec, Canada. Il a été l'un des finalistes sur La Voix saison 7 et a pu enregistrer sa propre version de "Country Girl" de Luke Bryan qui figure sur l'album de l'émission. Talentueux, charismatique, passionné, motivé et surtout dévoué à sa musique, il signe son premier contrat avec la nouvelle maison de disques Balistique Musique en 2022 pour lancer sa carrière.
Il est le tout premier artiste à faire confiance à l'équipe formée par Étienne Boulay et John Anthony Gagnon-Robinette. Justin a récemment joué en acoustique à AM to FM Live et a ouvert le spectacle avec "Best Bad Idea". Tout le monde dans le public a adoré la chanson et a répété à plusieurs reprises: "J'espère que c'est le prochain single". Nous espérons que "Best Bad Idea" vous plait!