Matt Doran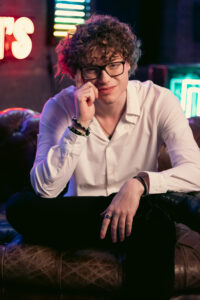 Matt Doran is an artist of many talents. Listening to his music, you'd be surprised to learn that he's only 20, as he has the creative talent and sound of a seasoned pro in the music business.
Pushing the boundaries of musical genres while continuing to evolve, Doran's sound is a amalgamation of the best of the alternative-rock and pop worlds, with a deep, passionate voice, articulate and relatable songwriting abilities, and a talent for production that is inspired by the styles of;  Panic!AtTheDisco, The1975, Charlie Puth, and Marianas Trench. After releasing his first studio album in 2019, "Can You Hear Me" that he co-produced, he got right back at it and crafted a series of songs that will be released later this year as part of his sophomore album "BLOOM".
A couple of singles from the album have already been dropped this year and show Doran's continued growth as a songwriter and producer. Written and recorded out of his college dorm room, hi ss current radio single "I Don't Like Her" takes falling out of love and flips it on its head ,reminiscing on a toxic relationship and the feeling of just wanting it to end. With a lifetime of opportunity ahead of him, Doran's already professional-grade abilities in singing, songwriting, and producing show that he's spending no time hesitating on achieving his goals. As anyone knows, if you have the drive, creativity, and talent, fame will not be far behind. And fortunately for Matt Doran, he has all three in spades.
---
Matt Doran est un artiste aux multiples talents. En écoutant sa musique, vous seriez surpris d'apprendre qu'il n'a que 20 ans, car il a le talent créatif et le son d'un professionnel chevronné de l'industrie de la musique. Repoussant les limites des genres musicaux tout en continuant d'évoluer, le son de Doran est un amalgame du meilleur des mondes du rock alternatif et de la pop, avec une voix profonde et passionnée, des capacités d'écriture de chansons articulées et relatables, et un talent de production inspiré par les styles de; Panique! AtTheDisco, The1975, Charlie Puth et Marianas Trench.
Après avoir sorti son premier album studio en 2019, "Can You Hear Me" qu'il a coproduit, il s'y est remis et a créé une série de chansons qui sortiront plus tard cette année dans le cadre de son deuxième album "BLOOM".
Quelques singles de l'album ont déjà été abandonnés cette année et montrent la croissance continue de Doran en tant qu'auteur-compositeur et producteur. Écrit et enregistré depuis son dortoir universitaire, son single radio actuel "I Don't Like Her" prend la chute de l'amour et le renverse, évoquant une relation toxique et le sentiment de vouloir juste qu'elle se termine. Avec une vie d'opportunités devant lui, les capacités déjà professionnelles de Doran en matière de chant, d'écriture et de production montrent qu'il n'hésite pas à atteindre ses objectifs. Comme tout le monde le sait, si vous avez le dynamisme, la créativité et le talent, la célébrité ne sera pas loin derrière. Et heureusement pour Matt Doran, il a les trois à la pelle.