Ty Baynton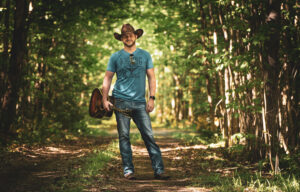 Hailing from a small farm town in Ontario is Saddle-Bronc Rider and Country Artist, Ty Baynton. Known for his tight set of rock-fueled country songs custom cut for his high-energy live shows and signature brand of 'stadium-sized' vocals, his music surely won't disappoint. You'll also hear echoes of Baynton's long-time influences like Tom Petty and Garth Brooks. His lyrical delivery is equally impressive, as he shares stories from growing up on his family's farm, his lifelong passion for the outdoors and his love for Rodeo. As he shares, "Whether I'm looking back at what I've done or what has happened around me, a lot of what I write about is my life. I don't know how else to go about it." Some of those storytelling-driven songs can be found on his latest album, Wrong Turns.
Featuring a collection of 6 songs including, "Just Hang On" , "Keep You Wild" & the title track itself (a fan favourite on Tik Tok, amassing more than 70K collective views), the album shares lessons learned from the road not taken, in love and from the choices we make.
When it comes to performing these songs on stage, Baynton's done countless shows on his own and with his live band over the years. He's shared the stage with the likes of Gord Bamford, Tim Hicks, Blake Shelton and many others, and performed at some of Canada's biggest country festivals, including Boots & Hearts, the Manitoulin Country Fest and a variety of rodeos. Most recently, he was the headlining act for the 2022 Ram Rodeo Series CCMA Pre-Party.
"Goodbye Lonely" is Ty's new single. It's the perfect autumn tune for country radio.
---