Jay Kutcher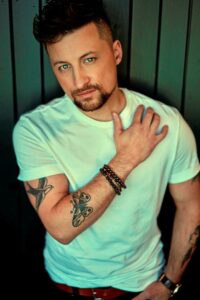 Praised Quebec pop artist Jay Kutcher (Jerôme Couture) reveals his new country music project which is being released in this year.
Ten years after being discovered on the first season of the hit TV show La Voix as one of the 4 finalists and having released 3 successful albums, the French singer-songwriter found the missing piece to his musical journey by finding where his unique voice truly belongs. After over a decade of trying to fit in and taking the path that was put in front of him, Jay finally decided to listen to his heart and follow his gut.
Singing along to his personal favorites Brett Young, Keith Urban and Zac Brown Band, Jay (Jérôme) fell in love with country music and found it to be the perfect home for his tone and personal lyrics. Alongside Nashville based Canadian producer Danick Dupelle, Jay Kutcher is ready to share his heart and music again in his most authentic and true release to date with a 6-song country debut EP.
"Another You" is the debut single from Jay Kutcher and we think it's the perfect track to introduce him to country radio.
---
Jay Kutcher lance son premier extrait country Another You!
On connaît Jérôme Couture depuis plus d'une décennie pour sa musique pop, ses pas de danse ainsi que ses participations à La Voix, Les Misérables, Elvis Story et le British Show. Malgré 3 albums populaires et 2 nominations à l'ADISQ en poche, l'artiste originaire de Jonquière, au Saguenay, sent qu'il lui manque quelque chose… Après des années à essayer de trouver son X à travers la musique pop, Jérôme découvre le new country. Un peu comme s'il avait trouvé la pièce manquante à son casse-tête, l'auteur-compositeur-interprète découvre un nouvel univers où il peut être lui-même à 100% et où sa voix unique et ses chansons personnelles retrouvent tous leurs sens. Inspiré par Brett Young, Keith Urban et Zac Brown Band, l'artiste s'entoure du réalisateur canadien Danick Dupelle à Nashville pour la création d'un mini-album mélangeant les sonorités pop et country à paraître en 2023. Sous le nom de Jay Kutcher, l'artiste débute cette nouvelle aventure destinée à faire lever les foules tant au Québec que sur les scènes country de tout le pays.
Another You est l'introduction parfaite de Jay dans ce nouvel univers musical!