Mindflip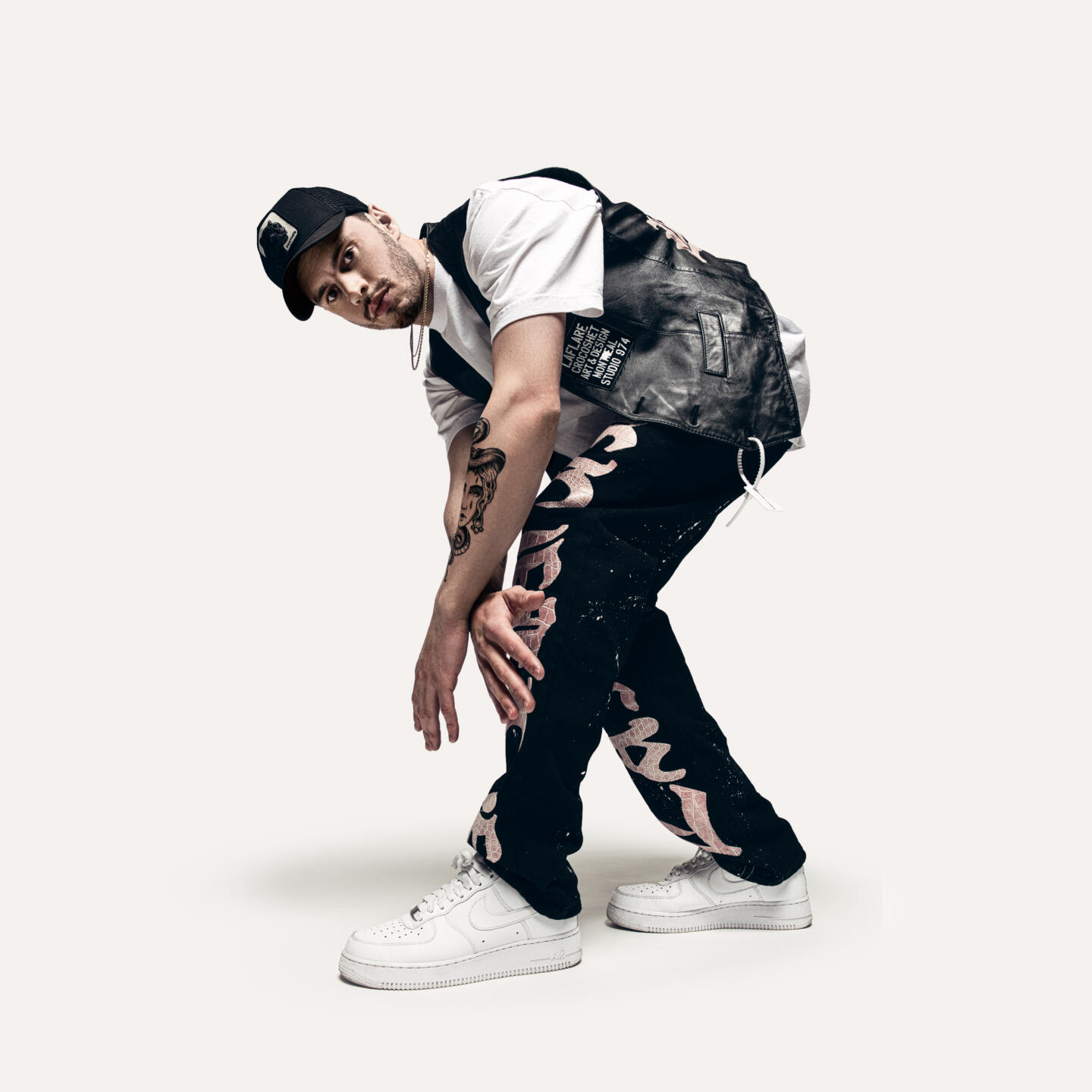 Living by the mantra, "The only limitations we have are the ones we set ourselves",
Mindflip knows a thing or two about adversity. Born with Tourette's Syndrome, he
went from having a fear of being limited by his condition to using it to power his
dreams. First releasing music professionally in 2018, Mindflip has quietly been making a
name for himself with his modern take on 90's/2000's style Hip-Hop amassing more
than 40 million streams over the last 4 years.
In 2021, Mindflip grabbed the industry's attention with his now Gold-certified single "Run My Shit" (12.2M+ streams) which rose to the top of popular Spotify playlist, Hot Hits Canada and also reached the Top 10 on Spotify Canada's Viral 50 charts. Having carved out a lane for himself with his signature 90's/2000's style Hip-Hop, Mindflip hit his fans with something a bit different in 2022 with the track, "Exquisite".
Considered his most commercially viable track to date, "Exquisite" tapped into a new sound that Mindflip has been working on with multi-platinum producer Soké of Banx & Ranx (Sean Paul, Dua Lipa, Diplo). Packed with groovy drums, catchy melodies and
Mindflip's intricate flow, the song broke onto Canadian Top 40 radio peaking at #31 and has remained on the charts for the last 16 weeks and counting. With his forthcoming debut EP appropriately titled, "Duality: The Life of a Gemini", the 7-track hybrid project will feature both his signature and new sound showcasing his versatility and "both sides of his Gemini".
In 2022, Mindflip racked up over 11.3M audio streams, 7.4M video views and 46K Shazams as well as placements on editorial playlists such as Pop All Day, Hip-Hop Central, It's A Bop, The Plug, Made in Quebec, Fresh Hip-Hop, Rotation North, Flux & Canadian Come-Up to name a few. Other highlights include playing the main stage at Quebec's premier Hip-Hop festival, Metro Metro, opening for Redman & Method Man in Montreal and selling-out his debut hometown headline show among others.
Mindflip ended 2022 on a high note by landing on Spotify's Best Hip-Hop Songs of 2022 playlist and Amazon's Best of 2022 Canadian Hip-Hop playlist. As an artist on the rise, Mindflip continues to prove that he has what it takes to become one of Quebec and Canada's next Hip-Hop exports.
---
Vivant selon le mantra "Les seules limites que nous avons sont celles que nous nous imposons",
Mindflip sait une chose ou deux sur l'adversité. Né avec le syndrome de la Tourette, il est passé
il est passé de la peur d'être limité par son état à l'utilisation de celui-ci pour réaliser ses
ses rêves. En 2018, Mindflip a commencé à sortir de la musique de manière professionnelle.
avec son interprétation moderne du hip-hop des années 90 et 2000.
plus de 40 millions de streams au cours des 4 dernières années.
En 2021, Mindflip a attiré l'attention de l'industrie avec son single "Run My Shit" (12,2 millions de streams), certifié or, qui s'est hissé au sommet de la liste de lecture populaire de Spotify, Hot Hits Canada, et a également atteint le Top 10 du classement Viral 50 de Spotify Canada. Après s'être taillé une place de choix avec son style hip-hop caractéristique des années 90 et 2000, Mindflip a offert à ses fans quelque chose d'un peu différent en 2022 avec le titre "Exquisite".
Considéré comme son titre le plus commercialement viable à ce jour, "Exquisite" fait appel à un nouveau son sur lequel Mindflip a travaillé avec le producteur multi-platine Soké de Banx & Ranx (Sean Paul, Dua Lipa, Diplo). Rempli de tambours groovy, de mélodies accrocheuses et du flow complexe de Mindflip.
Mindflip, la chanson a fait irruption dans le Top 40 des radios canadiennes en atteignant la 31e place et est restée dans les palmarès pendant 16 semaines. Avec son premier EP à venir, intitulé de manière appropriée "Duality : The Life of a Gemini", le projet hybride de 7 pistes présentera à la fois sa signature et son nouveau son, mettant en valeur sa polyvalence et les "deux côtés de son Gémeau".
En 2022, Mindflip a accumulé plus de 11,3 millions de flux audio, 7,4 millions de visionnements de vidéos et 46 000 Shazams, en plus d'être placé sur des listes de lecture éditoriales comme Pop All Day, Hip-Hop Central, It's A Bop, The Plug, Made in Quebec, Fresh Hip-Hop, Rotation North, Flux et Canadian Come-Up, pour n'en nommer que quelques-unes. Parmi les autres faits saillants, mentionnons le fait d'avoir joué sur la scène principale du premier festival hip-hop du Québec, Metro Metro, d'avoir fait la première partie de Redman et Method Man à Montréal et d'avoir vendu à guichets fermés son premier spectacle en tête d'affiche dans sa ville natale, entre autres.Mindflip a terminé l'année 2022 sur une bonne note en se retrouvant sur la liste des meilleures chansons hip-hop de 2022 de Spotify et sur la liste des meilleures chansons hip-hop canadiennes de 2022 d'Amazon. En tant qu'artiste en pleine ascension, Mindflip continue de prouver qu'il a tout ce qu'il faut pour devenir l'une des prochaines exportations hip-hop du Québec et du Canada.